Imprint and Legal Disclaimer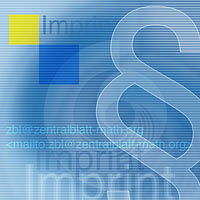 Zentralblatt MATH
FIZ-Karlsruhe GmbH
Abteilung Berlin
Franklinstr. 11
D-10587 Berlin
Germany
Legal Disclaimer
FIZ Karlsruhe offers to the informed public easy access to valuable specialized information through its website, as a fast and convenient way to topical and reliable information on the subject fields covered by FIZ Karlsruhe. When feedback from customers reveals faults in the information, we shall make suitable efforts to correct the faults. But FIZ Karlsruhe does not make any warranties as to the completeness, suitability or correctness of the information found on these sites that are freely accessible without password or login identification, and FIZ Karlsruhe shall not be made liable for any damages that may arise from the use of the information.
Liability according to the Product Liability Act is not affected.
Furthermore, links to third party sites are available in order to enlarge the reservoir of information that can be searched by the customers. As these sites do not belong to our web services and therefore are beyond our control, FIZ Karlsruhe assumes no responsibility for the contents of these third party sites and shall not be made liable for errors or omissions, lack of topicality or fitness for a particular purpose of the information found there.