Copyright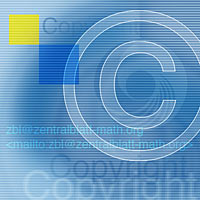 Copyright
Website design, texts and images are copyrighted: © Fachinformationszentrum Karlsruhe 1998 - 2008 . ALL RIGHTS RESERVED.
Any download, storage on data storage media, incorporation into an own internet offer or that of a third party, making available to the public, and any other copying, modification, distribution or communication to the public of the materials and information provided on this web site are only permitted within the tight limits set by the copyright law or with the prior written consent of FIZ Karlsruhe.
Trademark protection
The FIZ Karlsruhe logo as well as the names "Fachinformationszentrum Karlsruhe" and "FIZ Karlsruhe" are registered trademarks of FIZ Karlsruhe. All other trademarks, product names, company names and company logos mentioned on this web site are the property of their respective owners.