ZBMATH - CD-ROM Version
ISSN 0938-3171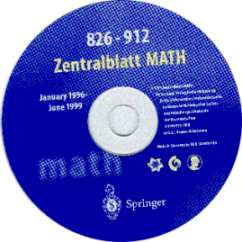 Zentralblatt MATH is also distributed as CD-ROM edition covering the years 1931 till today.
It consists of 8 CD-ROMs and is delivered with retrieval software (in English) for Windows (95/98/ME/NT/2000) on the disks.
Due to several UNIX-dialects the UNIX-retrieval module is not included on the CD but is available on request free of charge from the editorial office.
Local server installations for subscribing institutions are possible. The CD-ROM version of Zentralblatt MATH is updated twice a year.
An annual back-up CD-ROM is provided for online subscribers.
Coming soon:
A new retrieval version based on EDBM-Software will be offered early next year.